Serena Shades are on sale!
~Save
20%
and get free shipping until 9/9/15~
Enter SERENASALE at checkout to save.
Offer valid until September 9, 2015. The 20% discount does not apply to the Smart Bridge required for mobile app capabilities. The 20% discount will be applied to Direct Consumer orders placed on SerenaShades.com and cannot be combined with other offers or applied to previously purchased products. Shade Specialists are available seven days a week (M-F 8 a.m. - 8 p.m. EST, S-S 9 a.m. - 6 p.m.)
Proceed to Website
Why Serena Shades?
Serena® makes remote controlled motorized roller and honeycomb shades an accessible do-it-yourself solution for your home. Our battery-powered shades are a high-tech automated solution for your windows that offer the ultimate in convenience and can save you energy. Designing and ordering shades online for your home is easy with our state-of-the-art online design tool (available 24/7) or by contacting our Shade Specialists 7 days a week at 855-573-7362. Choose Serena® Shades for affordable luxury and cutting edge technology for the windows in your home!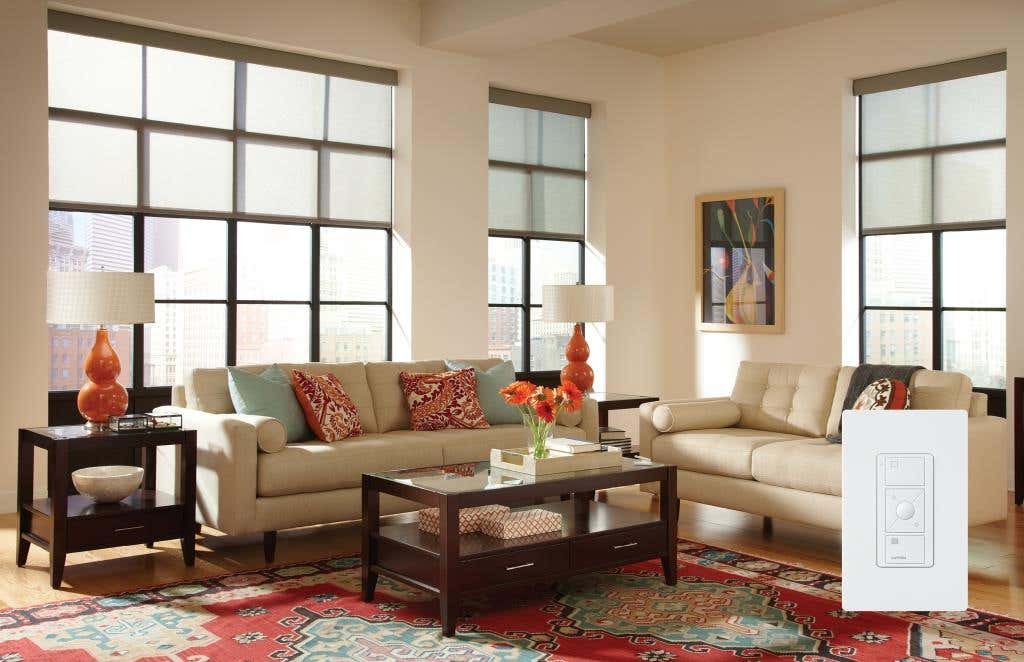 ---
Serena® & Technology Fabrics and Styles Energy Savings Control Shades and Lights with Smart Devices
---
Serena® and Technology for Your Home
Ultra-quiet Serena® shades offer the ultimate in convenience with cutting edge technology because they can be operated using remote controls in a room or by using a smart device and the Lutron app anywhere in the world.
Serena® cordless motorized shades are battery-powered which means low maintenance, reliability, wire-free design and easy installation.
Complete light control is possible using a combination of Serena® Shades to manage daylight and Lutron's Caséta™ Wireless line of dimming products to manage electric light.
The advanced technology of automated Serena® shades, Caséta™ lighting controls, and the Lutron Smart Bridge provides a simple DIY luxury solution at an affordable price!
Lutron's proprietary radio frequency (RF) technology means flawless operation without line-of-sight communication. Draperies or other coverings won't block the signal and cell phones or other wireless devices won't interfere.
Lutron technology ensures shades move at the same speed for a clean unified look inside and outside your home.
Our patented power technology yields industry leading battery performance with store bought batteries. The type of shade, the shade size and the fabric selected determine whether Serena Shades use AA Lithium or D Alkaline batteries and battery life. The number of batteries required is published during the design process, at the shopping cart and in your order confirmation.

Easy maintenance: Serena®'s exclusive headrail and bracket design makes for easy and quick battery changes; no need to remove the shade! SEE MORE
Fabrics and Styles
Serena® roller and honeycomb style shades are available in over 150 fabric choices to fit your tastes and match your application needs.
Serena® fabrics are offered in opacities from sheer to room darkening, in many colors and decorative textures with some fire-rated materials, adding a signature look to any space. *Browse fabrics and colors >

Energy Savings with Serena® Insulating Honeycomb Shades
Lowering Serena® Insulating Honeycomb Shades in the summer prevents the sun's harsh rays from heating up a room (causing A/C to work overtime) and raising them in the winter captures heat from the same rays.
The measure of thermal resistance (R Value) varies depending on the style of Serena® honeycomb shades chosen SEE CHART. The greater the R value, the more effective the product. A typical double-pane window has an R value of 2.0.
Learn more about the benefits of Serena® shades in our Serena® brochure, or take a look at our new Serena® video.
Control Shades and Lights with Smart Devices
Controlling Shades and Lights
Caséta™ Wireless Lighting Controls offer convenient control of your lights. We offer a variety of lighting controls, dimmers and kits for wireless control of lamps and lights that pair perfectly with Serena® Shades using a similar design aesthetic.
Check out the Caséta™ Wireless brochure or watch the video to learn how this simple system of wireless controls can further automate and enhance your home.
For more information about Caséta™ Wireless, visit www.Casétawireless.com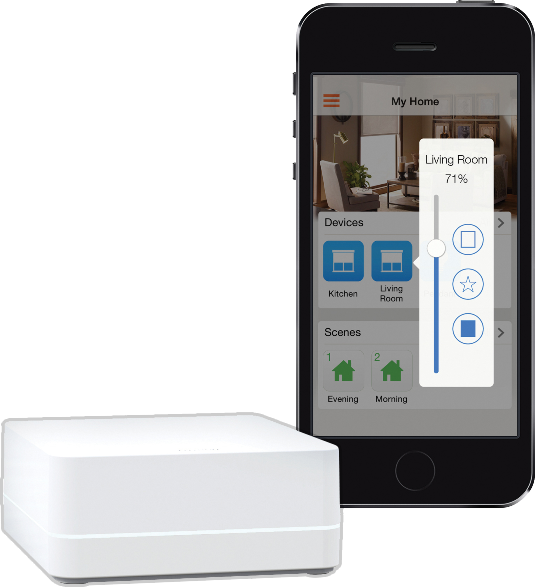 Announcing smart device control of Serena Shades with Lutron's App, Smart Bridge, and Caséta Wireless System
Lutron is proud to be one of the Apps used for the launch of the new Apple Watch™. With the Smart Bridge that connects to your home's wireless router and the Lutron App you can operate Serena® shades and Caséta™ lighting controls from iOS devices, including the Apple Watch™ wearable and Android devices. The Smart Bridge is available under Controls & Accessories. When the Smart Bridge is connected to a wireless router you can:
Control shades and lights from wherever you are - office, airport, beach, or home.
Add scenes to control multiple lights and shades together - Create a "Movie" scene to dim lights off and close shades for the perfect home theater setting.
Schedule lights and shades to adjust automatically at any time of day.
Back to top